bloqueardiscretamenteamigofacebook
This is an old revision of the document!
---
Como bloquear discretamente a un amigo en Facebook
Seguro que os ha pasado alguna vez: teneis un pariente pesado, o un jefe, que os ha pedido que le acepteis como amigo en Facebook y no quereis decirle que no, pero tampoco quereis que se vaya enterando de lo que publicas a tus amigos. Muchas veces decimos más de nuestras ideas simplemente con las noticias que copiamos que con toda una vida de conversacion.
Voy a contar cómo hacer que un amigo no se entere de lo que publicais de ahora en adelante, pero podrá ver todo lo anterior. Para ocultar todo lo anterior, hay que hacer algo más.
Que un amigo a partir de ahora no vea mis publicaciones futuras
Click en la rueda que hay en la parte superior derecha:

Seleccionamos "Configuración de la privacidad":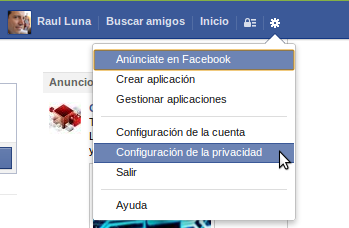 bloqueardiscretamenteamigofacebook.1371249629.txt.gz · Last modified: 2014/12/24 10:42 (external edit)